A couple months ago, Suzanne from Abiding Savior Lutheran Early Childhood Center, contacted me about sponsorship and we ended up chatting on the phone for a LONG time.  She was one of those people I felt like I have have known forever!  She had this great energy and passion for her school and it was contagious.   And after visiting Abiding Savior, I could see why she was so enthusiastic, as I really could feel the love present in their program!
Ironically one of my friends from high school that I have reconnected with on Facebook saw Abiding Savior on my blog and wrote me a note telling me that her daughter goes there and she loves, loves, loves it! So I asked  my friend what she loved most about the school and this is what she said…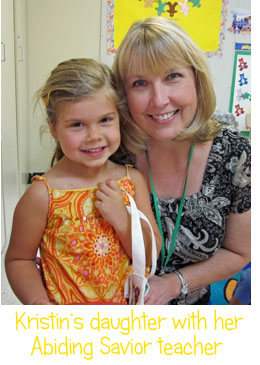 "This is my daughter's second year at Abiding Savior.  We originally chose this preschool over others in the area because not only were we impressed with the program and curriculum but mostly because we felt like they really cared about us from the very beginning.  As cliche as it sounds, it really felt like a family.  Even after our first brief visit, they remembered who I was when I called back the next day.
It feels like a small school and yet they have the programs I was looking for from bigger preschools. The school they have goes through 8th grade so that made me really comfortable with knowing that they have a good handle on the education system and what's important for preschoolers to learn before they head into elementary school.
Additionally, I really appreciate how much the teachers have worked with me to help me with parenting my daughter.  It was so encouraging to know they were supportive of our efforts at home. – Kristin, mommy of 2 (soon to be 3!)"
Recently I met with Lorena Bradley, the school Director, and Suzanne Towles, the Director of Admissions so I could find out more about their program. Here were some of the things that stood out to me about their darling school!
Homey – The school has a very safe, nurturing feel.  They strive to make you and your children feel like they are at a home away from home. For little ones just starting their experience with going to school, to me, this is super important!
Flexibility – This is totally unique and very appealing! They offer 2, 3 and 5 day programs along with extended care. If you are a working parent, part time or full time, they are open from 7am – 6pm and are committed to meeting the needs of the community. They will work with you to tailor a school schedule to fit yours.
They also have a 3 day afternoon preschool program from 12:30 – 3:30pm.  Around my area, this is hard to find. So, let's say you work afternoons part-time, you could have your child in afternoon program and stay until 5pm or 6pm, whenever needed.  Again, they are flexible and work with you!
Small class sizes
Developmental, Christian school
Fun enrichment programs – For additional fees, they offer classes like dance and sports programs you can enroll your children in.
Weekly music and chapel time.
Parenting classes.
Speaking of which, they are having a parenting class next week which is open to the public (and a great time to check out the school!) Here is the info!
"Parenting the Preschool Child"
A Christian Perspective
Dr. Buddy Mendez, Professor of Psychology at Concordia
Tuesday, October 26th, 2010
6:30-8:30pm
RSVP to the Preschool office at 949.837.4292
There were just so many special things about this school. From the individual hand-painted flags on each teacher's door with a personalized Bible verse, to the community birds and vegetable garden, it really did feel like a home.
So if you are looking for a Christian-based, preschool home for your child in south Orange County, this might be the perfect fit for you.   They are located in Lake Forest and you are invited to call or  stop by anytime for a tour to get more information. Registration for Fall starts in January, but there are still spaces available now to accommodate your child.
For more information visit www.abidingsavior.com or call Suzanne at 949.837.4292.
{Disclosure: Abiding Savior is a Tiny Oranges Sponsor}