Where to Stay in Laguna Beach
Recently my husband and I were invited to sneak away for a little 24 hour getaway to the beautiful Pacific Edge Hotel on the sand in Laguna Beach.
As I was relaxing on a lounge chair their onsite beach attendant set up for us, looking out at the Pacific, I thought, "How lucky are we to LIVE in a place where Laguna Beach is only a short drive away?!"
Pacific Edge Hotel has special meaning to us because we got married there in 2001. I could look up to what is now The Deck restaurant and see the exact spot where we said, "I do."  And, there we were, 11 years and 2 kids later. A lot of changes have happened since that Fall day.
Pacific Edge Accommodations 
And speaking of changes, the property, now owned by boutique hotel company, Joie de Vivre Hospitality, has gone through many recent renovations, including a complete make-over of the Surf Wing rooms where we were lucky enough to stay.
The oceanfront rooms in the Surf Wing all have balconies overlooking the ocean, and many have adjoining non-oceanfront rooms that can be opened up to make it a family suite.
With a beach front balcony to watch the crashing waves, quintessential beach decor, and an ultra-plush, comfortable bed where we were lulled to sleep by the sound of the waves, it was in a word, paradise.
The Bungalows on Laguna Beach 

On the bottom floor of the newly renovated Surf Wing are five beachfront Bungalows available to rent by the day. These indoor/outdoor living spaces are like having your own mini beach house, stocked with everything you need for the perfect day at the beach.
The five Bungalows are all uniquely decorated with stunning interior decor by local companies.
Here is one of my favorites, the Gorjana & Griffin Bungalow, contemporary and nautical, with even a little kid sized art table for pint sized guests. For more information on renting one of the Bungalows on Laguna Beach, visit www.PacificEdgeHotel.com/bungalows.
Save Money with the Edge Card 
One of the best things about staying at Pacific Edge is the location, as it is a short walk from Main Beach and all the shops and restaurants.
When you stay at Pacific Edge, you can save money on dining and shopping with their exclusive Edge Card, which saves you between 10 – 15% off at participating businesses.  A complete list is given upon check-in and can be found here on their website.
On this list is The Beach House Restaurant, located next door to Pacific Edge, where guests save 10% off food. My husband and I had an amazing oceanfront dinner there after spending a day at the beach.
It was also the place where we had our rehearsal dinner, again, another walk down memory lane.
Be a Tourist in Your Own Backyard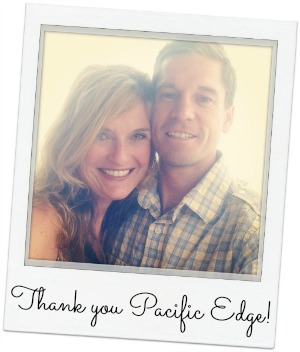 The next morning we woke up, had a cup of fresh Keurig coffee I made in our room (thank you very much Pacific Edge ~ it really is the little things that mean so much), then took a walk all around Laguna and went out to breakfast.
It is really fun playing tourist in your own backyard!
It is amazing how 24 hours away with your husband can recharge your soul.
To be able to sit on the beach, read, talk, go out to dinner, stroll around Laguna and just enjoy each other's company with NO distractions is an amazing and also necessary gift!
When getting away for just one night, a local spot in Orange County can be just what the doctor ordered.  And if you are looking for where to stay in Laguna Beach, it doesn't get much better than Pacific Edge.
Pacific Edge Amenities at a Glance
~ On property restaurant, The Deck, is open daily (but was closed for renovations when we stayed. Call for updated info.)
~ Complimentary beach towels, lounge chairs, and umbrellas
~ Two heated pools and a hot tub
~ Complimentary access to Art of Fitness, a few blocks away from the hotel
~ On-site valet parking for $24/night
~ Complimentary Wifi throughout the hotel, pool and beach
 www.PacificEdgeHotel.com
647 South Coast Highway
Laguna Beach, CA 92651
Follow on Facebook ~ Follow on Twitter
[Pacific Edge provided my husband and I with a complimentary one night stay and dinner to facilitate this review. We were very grateful for the 24 blissful hours and I am thrilled to share this property with you!]