Last month I attended a press conference at CHOC Children's Hospital on their new Mental Health Initiative and learned some very eye-opening facts about pediatric mental illness.
The topic is an important one to me yet I have never written about it on my blog. For my entire life I have struggled with anxiety, starting as early as age 4.
But I have never really opened up about my struggles on my blog.
Why? Because I believe there is a very real stigma surrounding mental health. Many people don't understand mental illness. They think it's something that the person should be able to change, like "Stop worrying!" or  "Snap out of it!" Not being able to control it can be seen as a sign of weakness.
But for those affected by mental illness, we often can't control it and need help. 
It took me until age 36 to seek the help I needed which has been ongoing therapy with a psychologist. Why? Because I felt ashamed for needing to seek help.  I also felt weak for not being able to help myself. But no matter what I did to try to stop my anxious thoughts and ruminations, I couldn't.
With the help of my therapist, I have been able to improve and manage my anxiety. It will never go away, but I now have the tools and self-awareness to know how to cope which has made me an infinitely happier person.
Today I treat caring for my mental health with as much importance as taking care of my physical health.
Pediatric Mental Illness – The Stats 
Here are some statistics to take in on the topic of pediatric mental illness:
1 in 5 children experience a diagnosable mental health problem during childhood.  That's 150,000 kids in OC, yet there are currently no inpatient psychiatric services (that means no inpatient beds) for children under 12 in the entire county.
In Orange County, 20% of youth reported needing help for mental health problems, while less than 1/3 received help.
Half of children with symptoms of mental health disorders have conditions that cause significant impairment in daily life.
50% of adults with lifetime mental illness had symptoms before age 14.
Suicide is the 3rd leading cause of death in children ages 15 – 19.
18% of high school students have considered suicide in the past year.
Orange County has fewer psychiatrists, psychologists, and licensed social workers than the state average.
CHOC Children's New Initiative to Address the
Pediatric Mental Health Crisis 
Once again, can you even believe there are ZERO psychiatric inpatient beds for children in all of Orange County?  That means children with serious mental health episodes remain in the emergency department for days at a time. To me, that is tragic.
CHOC Children's is going to make a change in the world of pediatric and young adult mental health.
With a $5 million lead gift by Sandy Segerstrom Daniels, CHOC Children's goal is to establish a Mental Health Inpatient Center including 18 beds, an outdoor play area and a specially trained staff.
CHOC has launched a fundraising campaign to raise $11 million for inpatient capital and startup costs, and $16 to endow the program. Here is an artist's renderings of the proposed Mental Health Inpatient Center.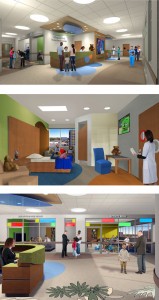 How Can You Help?  
If you are touched by these statistics, and want to help the pediatric mental health crisis, here are some things you can do to help.
1. Start talking about Mental Health and remove the stigma. 
2. Follow CHOC Children's on social media and join the conversation:
3. If you are moved by these statistics, and want to donate, you can CLICK HERE TO MAKE A MENTAL HEALTH DONATION.
If you have any thoughts you would like to share on the topic of pediatric mental health, I would love to hear them in the comments below!