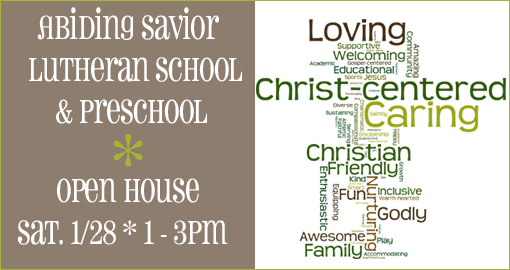 Abiding Savior Lutheran School and Preschool in Lake Forest is having a special Open House event this month on Saturday, January 28th, 2012 from 1 – 3pm and I wanted to share the details in case anyone happens to be looking for a fabulous private Christian school in South Orange County.
The school has preschool (including extended care), Junior Kindergarten, Kindergarten, and Grades 1st – 8th.
At the Open House, you will have the opportunity to meet the teachers, see the classrooms, learn about the curriculum and schedules, check out their Junior Kindergarten program, and truly get a feel for the school.
As a bonus, special discounts will be available for new families that enroll that attend the Open House! Inquire for details!
And yes, your children are welcome to attend!
When asked to describe Abiding Savior Lutheran School and Preschool, the most used words listed by the students, faculty and staff were: