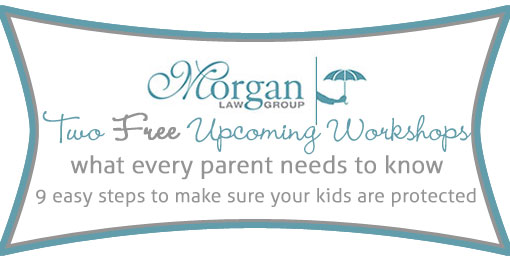 The Morgan Law Group is holding two upcoming free events on legal planning for your kids protection and I wanted to pass the information on!  Darylnn Morgan wrote me a little synopsis on the event below.  As a side note,  I would like to congratulate Darylnn on the birth of her baby boy!  So very exciting!  Here is what she writes…
"My name is Darlynn Morgan and I'm an attorney and a mom.  I just had my first child in January – Britton, a beautiful baby boy.  I knew I wanted to be a mom for a long time and it was a long and hard road of infertility for us…  As you can imagine, we are elated! It's been quite a journey, but I'm excited to be back to work and helping parents like you.
I thought I understood before just how important it is for you to take care of the legal planning necessary to make sure your child would be cared for by who you want, in the way you want, no matter what.  But now that I am a parent myself I have a completely new perspective!
Not only do I want the very best for my boy, I also realize that it is my responsibility to ensure his well being, every minute of the day.  And that means taking great care to plan ahead for all kinds of things that will likely never happen… but could.
The easy, peace-of-mind solution?  Attend our fun, fast, friendly and *free* Kids Protection Planning Workshop on May 1st, 2010  held at two kid-friendly locations:
Bears, Buddies & Toys in Laguna Niguel
Saturday, May 1st
10:45am – 12:00pm

The Little Gym in Tustin
Saturday, May 1st
4:15pm – 5:30pm
The kids enjoy supervised play and pizza while you learn.  And the hour that you spend at this workshop will be the best investment you could possibly make to ensure the well-being and care of your children and your family, no matter what happens in the future.
Now more than ever, it's important that you make smart legal and financial decisions for yourself and your family…. Chances are, you've either you've been putting it off, think you've got it all taken care of or think it doesn't apply to you.  Why not be sure… for the sake of your family.
During this informative workshop, you'll discover how to:
· Be sure your children never spend even one moment in the care of strangers (or anyone you wouldn't want) if anything happens to you.
· Avoid the expenses and delays of a long, drawn-out court process that would make life difficult for your loved ones if you were in an accident.
· Make sure your hard-earned money is immediately and privately available to your chosen guardians.
· Spot the 6 common mistakes most parents (and their lawyers!) make when naming guardians…. and how to avoid them.
·  Get your legal and financial house in order and take control of your finances…. And much more!
Space is limited, so Register Now!
Tiny Oranges would also like to congratulate the winners of my recent giveaways!
Lindsay is the lucky winner of the Safety 1st Squad in-home childproofing consultation and Eric is the winner of the 4 tickets to Mother's Day Brunch at the Hilton Orange County/Costa Mesa!
Happy weekend!  See you back next week with two giveaways you don't want to miss! xo Jen
{Disclosure: The Morgan Law Group is a Tiny Oranges Sponsor}