Be a part of the 8th Annual Share Our Strength's Taste of the Nation at Montage Laguna Beach Culinary Event on May 17, 2015!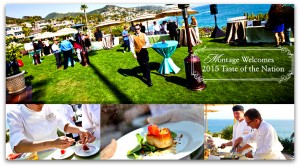 Montage Laguna Beach will host the 8th annual Share Our Strength Taste of the Nation Laguna Beach event on May 17, 2015 at the oceanfront resort where the nation's hottest chefs cook to fight childhood hunger.
My husband and I attended this event a few years ago, and let me tell you, it was one of the most memorable date nights, or rather date days, we have ever had.
First, it gives you a reason to get dressed up, which, for this mom is a real treat. Then, with one step onto the Montage Laguna Beach grounds you are immediately transported into a different world. Add in a glass of crisp Pinot Grigio or festive bubbly while gazing out to the Pacific and you might think life couldn't get better, but wait, the fun has just begun…
Imagine a number of celebrity chefs all in one place where you get to sample bites from each one (and make your husband go back to get you seconds.) Yes! You go from station to station and sample dishes from world renowned chefs who are cooking right in front of you. I was a little starstruck. So were my taste buds. It's a sensory soiree from start to finish.
But dreamy date day and delicacies aside – the best part of this event has nothing to do with skipping around Montage Laguna Beach on a gorgeous Sunday afternoon tasting gourmet food from celebrity chefs (okay, well maybe a little…) but truly the BEST part of this event is the cause.
Ending Childhood Hunger 
Did you know one in five children in this country struggles with hunger, including more than 2,487,750 children in California?  That statistic makes me want to cry. No child should have to go hungry.
The No Kid Hungry campaign is ending childhood hunger in this nation by ensuring all children get the healthy food they need, every day, by connecting them to nutrition programs like school breakfast and summer meals and by teaching families how to cook healthy, affordable meals at home.
In 2014, Taste of the Nation Laguna Beach raised over $200,000 which helped connect children in need with up to 2 million meals.

Ticket Information 
As contributors to the charity, guests can choose between the following event packages:
Celebrity Chef Tasting

  |  3:00 p.m. – 6:00 p.m.

Tickets can be purchased in advance for $200 per person or at the door for $225 per person.

In addition to delicious food and drinks, the event will feature a silent and live auction and live entertainment by the local band The Kalama Brothers.
VIP "Meet the Chefs" Reception 

|  6:00 p.m. – 8:00 p.m.

Complete the night with VIP treatment and a sunset toast. Enjoy the Celebrity Chef Tasting followed by an after party to mingle with the chefs. Valet parking and post-event gifts are included. Tickets purchased in advance are $275 per person or $300 at the door.

To purchase tickets for Taste of the Nation Laguna Beach, visit www.ce.strength.org/events/taste-nation-laguna-beach.
 Celebrity Chef Line-Up 
Executive Chef Craig Strong of Studio, Montage Laguna Beach's signature restaurant, will be joined by the following talented celebrity chefs:
Chef Shirley Chung, Twenty Eight Restaurant and Lounge, Irvine, CA
Chef David Coleman, Chianina Steakhouse, Long Beach, CA
Chef Ben Ford, Fords Filling Station, Los Angeles, CA
Chef Waylynn Lucas, (fōnuts), Los Angeles, CA
Chef Lee Smith, Executive Pastry Chef, Montage Laguna Beach, CA
Chef Ari Taymor, Alma, Los Angeles, CA
Chef Marcel Vigneron, Beefsteak, Los Angeles, CA
One hundred percent of ticket proceeds from Taste of the Nation benefit No Kid Hungry thanks to generous support from national sponsors Citi and Sysco®. Taste of the Nation Laguna Beach for No Kid Hungry is also supported by national sponsors Food Network, and OpenTable. Local sponsors include Montage Laguna Beach, S.Pellegrino Natural Sparkling Water, Celebrity Cruises, and Wahoos. Local beneficiaries include Second Harvest Orange County Food Bank, and Community Action Partnership of OC.
Again, to purchase tickets for Taste of the Nation Laguna Beach, visit www.ce.strength.org/events/taste-nation-laguna-beach or send link to your husband to purchase as a Mother's Day Gift! Timing couldn't be better!